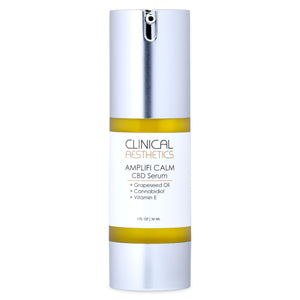 CBD Serum, Cannibidiol, Grapeseed Oil, Vitamin E
Why you will love it:
Especially formulated for sensitive and irritated skin, this oil-serum penetrates quickly. Cannibidiol, Grapeseed Oil, Vitamin E together create calming, soothing, and softening your skin will love. While the uses of Cannibidiol vary widely by product some users have experienced results calming skin disorders. Grape Seed Oil is a super potent antioxidant that appears to help even skin tone and smooth skin texture. It's a superb moisturizer, excellent for UV damaged skin.
Why it works:       
Why CBD might help calm Rosacea:  The symptoms from rosacea are all linked to an imbalanced inflammatory response. Research indicates that CBD has anti-inflammatory benefits which are enhanced by its antimicrobial/anti-acne and antipruritic qualities. These benefits may help relieve both the primary and secondary symptoms of rosacea. Source https://cutanea.com/cbd-for-rosacea/
How to use:
Apply a small amount to the affected area once daily.

Ingredients:
Simmondsia Chinesis (Jojoba) Seed Oil, Vitus Vinifera (Grape) Seed Oil, Persea Gratissima (Avocado) Oil, Tocopheryl Acetate, Cannabidiol.
Cautions:
For external use only. Keep out of reach of children. Avoid contact with eyes. If irritation occurs discontinue use. This product has not been evaluated by the FDA for safety or efficacy. It is not intended to treat, cure, or heal any disease.