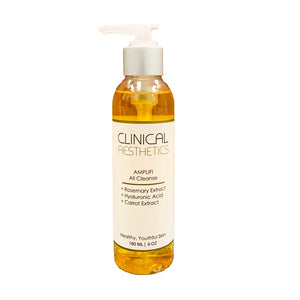 All Cleanse, Amplifi All by Clinical Aesthetics
Why you will love it:
A gentle everyday face wash formulated for all skin types especially sensitive or irritated. It cleans thoroughly while moisturizing with natural botanical extracts. Regular use leaves skin soft, hydrated and visibly more radiant.
Why it works:
Rosemary Extract has antioxidant benefits that can help protect skin from environmental irritants and soothes and calms already irritated skin.

Hyaluronic Acid keeps skin hydrated and supple.
Hops Extract helps protect, soothe, and revitalize skin.

How to use:
Apply to dry hands and gently massage onto face and neck, dampen hands and continue to massage for at least 1 minute, rinse thoroughly with warm water. 
Ingredients:
Aloe Vera Gel, Decyl Polyglucose, Glycerin, Cocamidopropyl Betaine, Polyquaternium-10, Coltsfoot Extract, Hops Extract, Rosemary Leaves Extract, Sage Leaves Extract, Allantoin, Sodium PCA, Sodium Hyaluronate, Fragrant Oil, Carrot Extract, Phenoxyethanol, Potassium Sorbate, Sodium Benzoate.