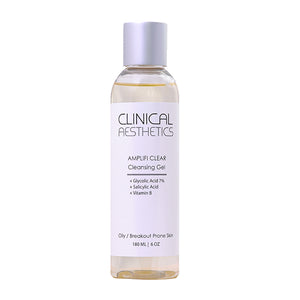 Glycolic Acid, Salicylic Acid Clear Cleansing Gel, Amplifi Clear by Clinical Aesthetics
Why you will love it:
A deep cleansing, oil-free, non-drying face wash excellent for removing excess oils and impurities and helping clear blemishes.
Combination of 7% Glycolic Acid and 1% Salicylic Acid helps keep pores clear of excess oils, dirt and bacteria.
Regular use helps dry existing blemishes and minimize future breakouts. 
Glycolic Acid helps to smooth and soften skin and fade skin discolorations.
Why it works:
Formulated with 7% Glycolic Acid helps to smooth skins texture and help fade scars caused by recurring breakouts.
1% Salicylic

 Acid 

exfoliates to help dry existing blemishes and remove dead skin cells and excess oils that clog pores and cause breakouts. 

 

Yeast Extract

 

is rich in Vitamin B, which helps promote skin integrity – often disrupted when skin is irritated. It helps keep skin healthy.
How to use: 
Cleanse face twice daily, morning and night. or after exercise or outdoor activity.
Using a generous amount, gently massage in a circular motion for at least 1 minute.
Rinse with warm water.
Ingredients:
Aloe Vera Gel, Decyl Polyglucose, Glycolic Acid-7% (partially neutral­ized for balanced pH), Salicylic Acid, Cocomidopropyl Betaine, Dimethicone, Yeast Extract (Vitamin B), Sodium PCA, Glycerin, SD Alcohol 40, Lactic Acid, Watercress Extract, Papain, Bromelain, Lavender Extract, Soap Wort Extract, Camphor, Sodium Hydroxide, Guar Gum, Phenoxyethanol, Sodium Benzoate.