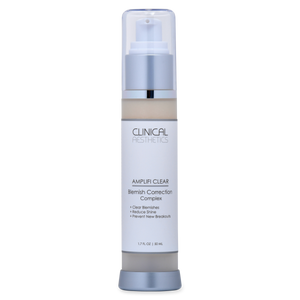 Blemish Correction Complex, Glycolic, Salicylic, Tea Tree Oil, Witch Hazel
WHAT IT IS: 
A fast acting blemish treatment that reduces the severity of breakouts and helps prevent new blemishes from forming. 
It penetrates pores loosening trapped dirt and oils to clean pores and help prevent cell build up which clogs pores.
Witch Hazel Extract helps reduce swelling and acts as an astringent, causing tissues to contract which helps prevent bacteria from entering pores.
Regular use helps clear skin, reduce breakouts, shine and oiliness.
WHY IT WORKS:
Oily skin is prone to excess oils and breakouts, especially on the forehead, nose, chin. Blemish Correction Complex combines powerful ingredients Glycolic Acid, Salicylic Acid, Tea Tree Oil, and Vitamin B Complex to help clear existing blemishes and prevent new breakouts.

INSTRUCTIONS FOR USE:
Apply a thin layer after cleansing and toning to face and neck.
Do not over-apply.
Start with one application daily then gradually increase to twice daily if needed.
Also great for use as a spot treatment.

INGREDIENTS:
Aloe Vera Gel, Which Hazel Extract, Refined Sea Water, Glycolic Acid and Lactic Acid and Malic Acid and Salicylic Acid, Stearic Acid, Carbomer, Tea Tree Oil, Dimethicone, Lecithin, Silica, Tocopheryl Acetate, Yeast Extract, Lavender Extract, Sodium PCA, Triethanolamine, Sodium Hyaluronate, Phenoxyethanol, Sodium Benzoate, Potassium Sorbate.

CAUTIONS:
For external use only. Keep out of reach of children. Avoid contact with eyes. If irritation occurs discontinue use. This product has not been evaluated by the FDA for safety or efficacy. It is not intended to treat, cure, or heal any disease.